It's A Big Country
Australia is  7,682,300 km2 and accounts for 5 % of the world's land area.
As can be seen from the Geographic Country Comparison map, Australia is a large country relative to some of the countries that tourists often come from.
The greater distances between areas of interest highlight the remoteness of many of Australia's tourist destinations.
Accordingly, extra planning and care are required to ensure the safety of your trip.
Some basic tips are provided on the Outback Safety Card which can be downloaded and kept in your vehicle.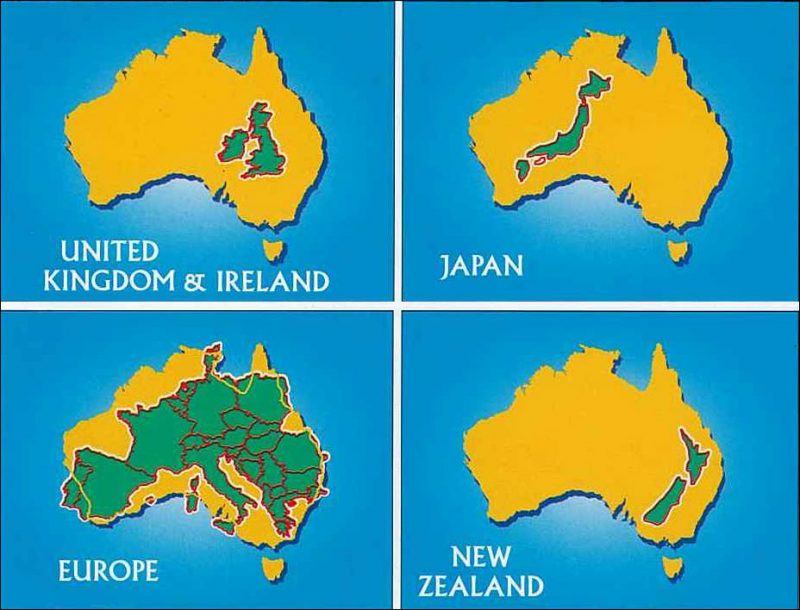 Weather Conditions
It is recommended that visitors check the weather conditions that they are likely to encounter during their visit to their selected destination. It is important to remember that weather conditions vary significantly between different areas of Australia even though they do not seem very far apart. In addition, some areas are affected within hours by weather in areas hundreds of kilometres away.
The weather conditions in most of the remote areas of Australia are often extreme and visitors must ensure that they are prepared for these climatic conditions.
Visitors should check weather conditions at the Bureau of Meteorology for the areas they intend to visit.
Remoteness Of Areas Within Australia
Visitors should be aware of the remoteness of some areas within Australia and the implications for them if something unplanned occurs. Sometimes the distances between places of interest are hundreds of kilometres apart and there is no assistance available in between. Much of the road and track network between places of interest is unsealed and lightly trafficked meaning that breakdowns pose a significant risk to the lives of those concerned.
Travellers are advised to complete the Remote Trip Advice form and leave it with a responsible person (preferably someone in Australia who you will contact at the end of your trip). This will allow the responsible person to advise authorities of your non-return and assist search and rescue teams in locating you quickly in case of breakdown or other unplanned delay.
How To Get Assistance In Remote Areas
Due to the often vast distances between places where assistance is available it is unlikely that walking or hailing a passing motorist is likely to help. The most useful means of getting assistance is by having a radio capable of transmitting over large distances such as a High Frequency radio or a satellite telephone. Visitors should contact the VKS-737 Radio Network prior to their trip to find out about radio communication equipment.
Phone Coverage
Mobile phones still do not operate in many areas of Australia and the coverage maps are provided as a guide only as network coverage by service providers varies.

Travellers are advised to check mobile phone coverage with their service provider in the area of their intended travel.
Telstra Coverage Map  –   Optus Coverage Map   –   Vodaphone Coverage Map
You may need a satellite phone if you are travelling in remote locations. In Australia there are three satellite system in operation Iridium and  Thuraya and Immarsat
Permits For Travel Access
Various permit systems for access exist across Australia and travellers are required to hold current and valid permits where required by the land owner/manager as appropriate.
Information on permits required for various areas is contained on our permits page and while all precautions have been made to ensure the accuracy of the information, contacts and other details can and does change.
Travellers are advised to check the information for themselves and if any information is incorrect please advise the Secretary.